General Information
Conference country
The conference will be held in Cyprus.
Cyprus History (pdf file, 63 KB)
Currency
The currency in Cyprus is the Euro.
Most Cypriot businesses accept major credit cards.
Banks
Banks at Larnaca and Pafos International Airports provide exchange bureaux services on a 24-hour basis. Similar facilities are also available at Limassol harbour.
There are many Automated Teller Machines (ATMs) outside most branches of banks in all towns and in the main tourist resorts of Agia Napa and Paralimni.
Hotels, large shops and restaurants normally accept credit cards and traveler cheques. Banknotes of major foreign currencies are also acceptable. Rates of exchange are published daily in the local press and are broadcasteds through the media.
Monday-Friday 08:30 - 13:00
Monday 15:15 - 16:45
Certain banks in tourist areas open during the afternoon.
Banks are closed on weekends and on public holidays and Easter Tuesday. Christmas Eve is a working day for banks.
Medical facilities
The health facilities in Cyprus are of high quality. The emergency departments in all hospitals have English-speaking personnel, but it is advisable to seek the assistance of an interpreter for more complex medical matters.
All types of medication are available in pharmacies all over Cyprus. Emergency treatment in the Emergency department of hospitals is free to tourists.
Electricity
Electricity in Cyprus is 230 Volts, alternating at 50 cycles per second. If you travel to Cyprus with a device that does not accept 230 Volts at 50 Hertz, you will need a voltage converter.
The outlet in Cyprus is shown below.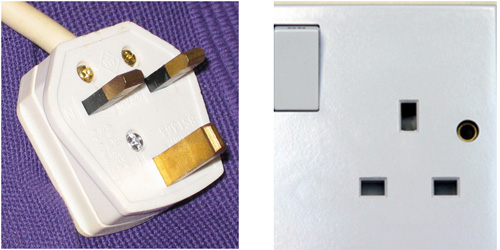 Two parallel flat pins with ground pin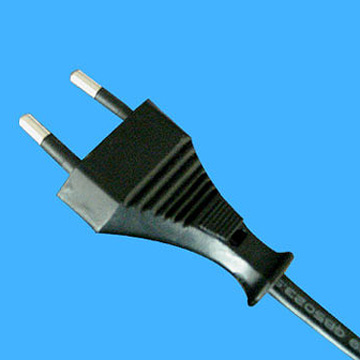 Two round pins
If you have 2 round pin outlet you need an adapter.
Telephone
The Cyprus automatic telephone dialing system reaches 206 countries. Telecards can be purchased from Post Offices, kiosks and souvenir shops.
Climate and clothing
The climate of Cyprus is a warm Mediterranean climate. Hot, dry summers with mild winters during which rainfall is most likely.
Required clothing for Cyprus: Lightweight fabrics during summer months; warmer mediumweights and rainwear during the winter.
Time difference
The time in Cyprus is 2 hours ahead of Central European Time (CET).
Visas
Where Visas are being issued:
Visas will be issued by all the Diplomatic Missions (Embassies and General Consulates) of the Republic of Cyprus, and by all the Honorary Consulates of the Republic of Cyprus abroad in their respective countries. Additionally visas can also be issued by the British High Commissions/Embassies in the following countries:
1. ARGENTINE REPUBLIC
2. BAHREIN
3. HONG KONG
4. JAPAN
5. JORDAN
6. KAZAKHSTAN
7. KUWAIT
8. OMAN
9. SWITZERLAND
10. SUDAN
11. UNITED ARAB EMIRATES (ABU DHABI, DUBAI)
12. UZBEKISTAN
The above information is based on information provided by the Ministry of Foreign Affairs at their website. Please visit their website for the latest information and further details by clicking here .
Please note that participants have the following options for their transfers from/to the airport:
Airport
There are two international airports in Cyprus, at Larnaca and Pafos.
Around 30 airlines connect Cyprus directly with most European and Middle-East countries, providing ongoing services to anywhere in the world.
Ports
The two main ports are in Limassol and Larnaca.
Private taxi Transfers
Transfers can be private or shared, are inclusive of meet and assist, and the service is guaranteed.
Airport Taxis
Get an airport taxi upon arrival at the airport. Service is quite good, but at times one may have to wait and prices may vary depending on the time of arrival.
Languages
English is the second language and is widely spoken. Knowledge of French and German is increasingly noticeable